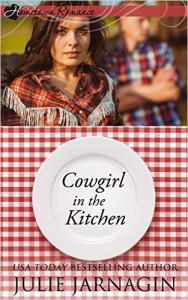 Cowgirl in the Kitchen, the final book in the Taste of Texas series, is now available!
Just as she's about to make her dream come true, disaster strikes. The only way she can get back in the saddle is to strike a bargain—with a man her family despises.
Jentry Lawson's dream of becoming a world-class barrel racer is about to happen—until she and her horse are injured in a terrible accident. Forced to move back home to Texas to recuperate, her Dallas-based brother makes her an offer she can't refuse. He needs someone he can trust to oversee the renovation and grand opening of his new restaurant. If she'll take that on, he'll finance her return to the arena. It doesn't take Jentry long to discover she bit off more than she can chew. Swallowing her pride, she asks for help from Gavin Easton—a man her brother despises. But he's the one person who can make the restaurant succeed.
People in Glover never thought Gavin Easton would amount to anything. Ever since his own restaurant in town burned down, he's taken odd jobs to provide for his niece, whom he is raising alone. When beautiful and stubborn Jentry offers him the perfect job, his first reaction is to turn her down flat. No way he's going to do anything to help her brother! But there's more at stake than his pride. Can he trust his future to the woman whose brother tried to ruin his reputation—and his life?
Besides, how can he manage a restaurant, when he can't manage his heart?