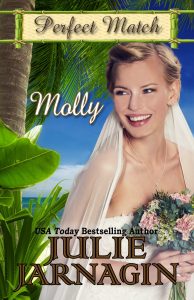 Molly from the Perfect Match series is available on Amazon!
I can't wait until you have a chance to escape into this story.
Grab your beach umbrella and prepare for six weeks of romance and fun in the sun with a brand-new series brought to you by USA Today bestselling authors…
Perfect Match!
Six exciting, sweet novellas linked by a unifying theme. You'll want to read each one!
PERFECT MATCH SERIES
Six women receive invitations from Dawson Yates, owner of Perfect Match, a brand-new online matchmaking travel agency for a free week-long vacation to the island of her choice. As part of an extensive promotional campaign, Dawson expects to make six perfect matches that he can use to champion his business. The women expect to meet the men of their dreams. What none of them anticipates is the chaos that ensues when six couples who were strangers before agreeing to spend the week together discover that love is a lot more complicated than a match made by computer algorithms.
This is Molly's story…
Molly McShea, a relationship columnist for a national women's magazine, is assigned to write an article about Perfect Match, a new matchmaking travel agency. When her date doesn't show, she's determined not to lose the promotion she's been working toward or the chance to redeem her reputation after an ugly, public break-up.
Sean Logan started a new life as a surf instructor so that he could escape his painful past. He'd let himself get pressured into signing up for a dating site, but he finds out his date is planning to post his photo all over social media and write about their week together in a popular magazine. He knows he can't let Molly get in the way of his privacy or his brother's quiet life on the island. But he must ultimately decide if falling in love with his perfect match could be worth all the risks.
Find all the Perfect Match novellas at Amazon!
BREE (Raine English)
MARNI (Aileen Fish)
MOLLY (Julie Jarnagin)
JADE (Rachelle Ayala)
AVA (Denise Devine)
MAEVE (Josie Riviera)