Perfect Match, Book #9
Courtney Bailey is ready for her new adventure, fostering kids in need. First, she's agreed to go through a matchmaking week at a Caribbean resort. With no interest in actually falling for anyone while she's there, Courtney hopes the crazy scheme will satisfy her mother who's worried Courtney has given up on love. Courtney's shocked when she's matched with her ex-fiancé, Tyler Dunn, but giving into feelings for Tyler would only ruin her big plans.
After leaving his ten-year career in the army because of a back injury, Tyler is heading to Joy Island to escape his problems and decide what his next step in life will be. He never expected that trying to figure out his future would lead him back to the most painful part of his past—Courtney Bailey. Still, he's enticed by the thought of spending the week with his gorgeous ex, but when he starts falling for her for a second time, he doesn't know if he can handle another heartbreak.
---
Hawaiian Holiday, Book #4
Dean Callahan is leaving his beloved ranch and cowboy boots behind to take a Christmas cruise to Hawaii with Kelsey, his best friend since childhood. For years, he's harbored deep feelings for Kelsey, but after her last rejection, he swore to never put his heart on the line for her again. Now she's talking about moving halfway across the country. During the trip, Dean must decide whether to tell her how he feels and try to convince her to stay—or risk losing the woman he loves forever.
Kelsey Haynes has spent most of her life trying to escape the stigma of her troubled past. After struggling with bouts of depression in her youth, her parents are still trying to protect her, and everyone in her small Oklahoma town seems to be waiting for her to unravel again. Now that she's happy and healthy, she's ready to leave town and make a fresh start, courtesy of a great job offer in Seattle. First, however, she has to endure the cruise her father planned and break the news to her parents that she doesn't want to take over the family's business. She brought Dean along as an ally, but her plan backfires as her growing feelings for him make her doubt whether she should leave the man who's been there for her through everything.
When the cruise is over, will Kelsey be ready to prove to everyone she can break out on her own or should she stay in her small Oklahoma town and see if she and Dean really are meant to be more than friends?
---
Perfect Match Series, Book #3
Molly McShea, a relationship columnist for a national women's magazine, is assigned to write an article about Perfect Match, a new matchmaking travel agency. When her date doesn't show, she's determined not to lose the promotion she's been working toward or the chance to redeem her reputation after an ugly, public break-up.
Sean Logan started a new life as a surf instructor so that he could escape his painful past. He'd let himself get pressured into signing up for a dating site, but he finds out his date is planning to post his photo all over social media and write about their week together in a popular magazine. He knows he can't let Molly get in the way of his privacy or his brother's quiet life on the island. But he must ultimately decide if falling in love with his perfect match could be worth all the risks.
---
Beach Brides Series, Book #1
Meg Mullen's community theater is on the verge of closing if she can't raise the money to save it, but she's running out of time and needs a miracle. Television producer, Elliot Campbell, finds a message in a bottle from the perfect female contestant for his reality dating show. All he has to do is talk Meg into taking the job, convince her to choose one of the contenders, and figure out how to keep from falling in love with her himself.
---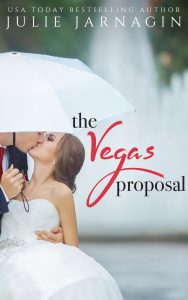 The Vegas Proposal
A celebrity wedding would save her family's Las Vegas chapel—as long as she doesn't fall for the groom.
The Traditions Wedding Chapel in Las Vegas has been in Claire Grigg's family for three generations, and she dreams of restoring the struggling chapel to its original glory. When Claire discovers the chapel's financial problems and the strain it's putting on her parents' marriage, Claire commits to doing whatever it takes to save the business.
Vegas is the last stop on Ben Karr's tour, and he's afraid he'll soon be added to a long list of one-hit wonders. He's determined to prove that his talent deserves to be taken seriously and all the sacrifices his grandmother made were worth it. He's known more for his frequent break-ups with famous women than his music. Until he can repair his public image, Ben's label refuses to invest in another album.
Ben devises a radical plan to save his career––a fake wedding to his starlet ex-girlfriend—but the adorable chapel director and her talk of true love and commitment is making him rethink the scam. Will Claire and Ben let go of their dreams and risk it all to grab onto a shot at true love?
Amazon
Barnes & Noble
Kobo
iBooks – Coming Soon
Goodreads
---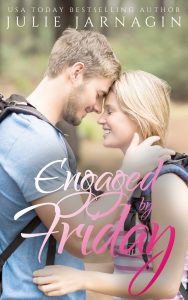 Engaged by Friday 
Matched Online / Book #4
From a USA Today bestselling author Book 4 in the Matched Online series
Can a fake engagement lead to lasting love?
After her boyfriend dumps her instead of proposing, Mary Beth wants nothing to do with her ten-year high school reunion. Especially because if she shows up without a date, she'll lose a bet with her high school nemesis. Christian is too busy with his camping equipment startup to date—until his sister sets him up online. The chance connection could help his business—if he agrees to Mary Beth's dramatic request that he pretend to be her fiancé. But when make-believe becomes something more, they must decide if this new love can last…
---
---
Cowgirl in the Kitchen 
Taste of Texas / Book #4
Amazon

Just as she's about to make her dream come true, disaster strikes. The only way she can get back in the saddle is to strike a bargain–with a man her family despises.
Jentry Lawson's dream of becoming a world-class barrel racer is about to happen–until she and her horse are injured in a terrible accident. Forced to move back home to Texas to recuperate, her Dallas-based brother makes her an offer she can't refuse. He needs someone he can trust to oversee the renovation and grand opening of his new restaurant. If she'll take that on, he'll finance her return to the arena. It doesn't take Jentry long to discover she bit off more than she can chew. Swallowing her pride, she asks for help from Gavin Easton–a man her brother despises. But he's the one person who can make the restaurant succeed.
People in Glover never thought Gavin Easton would amount to anything. Ever since his own restaurant in town burned down, he's taken odd jobs to provide for his niece, whom he is raising alone. When beautiful and stubborn Jentry offers him the perfect job, his first reaction is to turn her down flat. No way he's going to do anything to help her brother! But there's more at stake than his pride. Can he trust his future to the woman whose brother tried to ruin his reputation–and his life?
Besides, how can he manage a restaurant, when he can't manage his heart?
---
The Wedding Barn 
Taste of Texas / Book #3
In book two of the Taste of Texas series, Julie Jarnagin invites you to slow down and experience life on a rural Texas ranch. And fall in love, all over again…
Paige Morgan's career is in shambles. What kind of wedding planner gets left at the altar? So when a job planning parties on a ranch in rural Texas comes her way, she jumps at it. So what if the cowboy who runs the place isn't happy she's there?
Rancher Nick Reid risked his heart once… and lost. Who needs love? He's got a great life on the family ranch—so long as Paige Morgan and her city ideas don't ruin it all. If only his family didn't need her help to save their livelihood. And if only he wasn't so darned drawn to the woman. But no sooner does Nick start to believe in love again, than a socialite shows up looking for Paige. Asking her to plan an elaborate wedding. Back in the city.
Both Paige and Nick need a second chance at love. But what will it cost them to take it?
---
Kiss the Cowboy
Taste of Texas / Book #2
What if your competition for your dream job…was your dream man?
All Lucy Pickett needs to become executive chef in one of Dallas's finest restaurants is to pull off the high-profile wedding she's catering. So what if she's forced to share duties with Dylan Lawson, a modern-day chuck-wagon cook? So what if he's got rugged looks and cowboy charm? None of that is going to knock her off her game. Until she learns the restaurateur is considering Dylan for the position she wants. Game on–and it's a winner-take-all event!
Dylan Lawson finally has the opportunity he's been waiting for to prove he can do more than just be a ranch hand. The only thing standing in his way is the fiery chef fighting for the same position. Will the heated competition scorch any chance they have for love?
---
The Art of Falling
Taste of Texas / Novella / Book #1
Heather Tornsten needs a man…a celebrity, more specifically, for a fundraising gala for the Dallas art museum, where she works. And what better headliner than bull rider Wyatt Lawrence? Although why people idolize grown men who make their living falling off animals, she'll never understand.
When his mom was diagnosed with cancer, Wyatt determined to focus on doing what she wants—like visiting some art museum. But when his mom teams up with Heather Tornsten to get him involved in a fundraiser, he knows he's been set up. The more involved he gets with the pretty events coordinator, the more he realizes falling off a bull is far safer. Because falling for Heather–who has made it clear that she won't risk her heart on any man who courts danger–might break a whole lot more than his bones.
---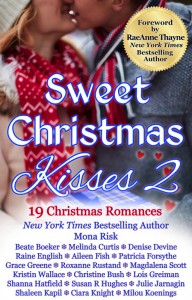 Sweet Christmas Kisses

2

 
Novella Collection
Welcome in the holiday season with 19 heartwarming and wholesome novellas from New York Times, USA Today, national bestselling, and award-winning authors.
Sweet Christmas Kisses 2 takes you from the Smoky Mountains to Florida's sun-drenched beaches, from the Italian Alps to Paris, France, and even to a quirky little town in Arizona. The Sweet Christmas Kisses 2 bundle features all-new, stand-alone stories that are sure to make you laugh, sometimes bring tears to your eyes, but always put you in the Christmas spirit. Foreword by New York Times bestselling author, RaeAnne Thayne.
Evergreen Romance by Julie Jarnagin. A couple reunites while working together at a Christmas tree lot.
---
Canyon Weddings Canyon series / 3-in-1
Amazon
Barnes and Noble
ChristianBook.com
Venture into the chasms of loneliness and distrust alongside three women who are facing great changes in their lives. Cassie is trying to save a camp from bankruptcy, but Will's job is to see the property sold no matter who gets in the way. Laura is left at the altar with a house in serious disrepair, while Connor doesn't know if he should help her or be loyal to his best friend, the runaway groom. Beth is facing a mountain of problems, and she certainly didn't need to deal with distrustful Brendan returning to town and stirring awake her heart.
---
Canyon Walls
Canyon series / Book #1

Sunset Camp changed Cassie Langley's life as a teen. A decade later she is the new director attempting to prevent the struggling Christian camp from closing. She is determined to show her overbearing mom, perfect sister, and nosey small-town residents she can do it on her own.
Charming Will Overman volunteers as a camp counselor, attracting Cassie's attention–and her suspicions. Is he there to help the kids or scout out the camp as a possible development site for his family's real estate business? With the camp in serious financial trouble, Cassie must fight her feelings for Will to protect the camp.
Canyon Crossing Canyon series / Book #2

Laura has the perfect wedding perfectly planned until she watches her man tear off into the sunset—without her. Connor watches as his friend leaves in a trail of dust, horrified by what he's just witnessed. How could Thomas simply walk out on this lovely creature? And how should he handle his growing attraction to Laura? When Thomas unexpectedly returns, Laura doesn't know who to trust or where to turn. There's a canyon in her heart, but is it forever destined to stay empty?
---
Canyon Cafe Canyon series / Book #3

Fifteen years ago Brendan left his home, his family, and his first love. Today he's a respected international photojournalist, but the holes in his heart remain. Heading home after all those years for his younger brother's wedding, Brendan decides it's time to deal with the hurt, the misconceptions, and the guilt. Maybe then he can be free. Except he didn't count on the fact that the people he left behind have been hurting just as badly. He didn't expect that his brother wouldn't speak to him. He didn't know that Beth would still be single. And it never occurred to him that they might still be in love.